Keynote 3: LIDAR for HERA mission
---
Near-Earth Objects (NEO) are the topic of several research studies, with objects smaller than 1km in size posing the most threats and being the less understood of this scientific domain. The Asteroid Impact and Deflection Assessment (AIDA) mission involves NASA and ESA with the main mission goal to perform and analyze the asteroid deflection using the Kinetic Impactor technique.
The mission target is Didymos-B, a moon of a binary asteroid called Didymos. NASA oversees the Double Asteroid Redirection Test (DART probe), and ESA is responsible for HERA probe, that will measure the Dydimos-B deflection caused by the impact.
The Light Detection and Ranging (LIDAR), the Radar, the Satellite-to-Satellite Doppler tracking, the Seismometer, and the Gravimeter are instruments integrated into HERA spacecraft. Information synergy between the instruments allows the detailed characterization of the asteroid including internal structure. This communication focusses the challenges of developing the LIDAR for the HERA probe.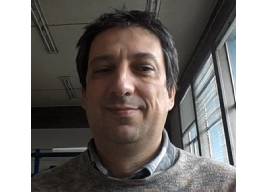 Paulo Gordo
---
Researcher at Faculty of Sciences – University of Lisbon
CENTRA research center , CEO at: Synopsis Planet, Portugal
Paulo Gordo was born in Lisbon in 1973. He has worked in the space sector for about 20 years, as a researcher in academy and as optical engineer, project Manager in space industry. He has worked in space multidisciplinary topics covering optics, materials, instrumentation, and space safety. He took a master's degree o Physics engendering at Faculty of sciences and technology (FCT-UNL) in 1999, afterword's started to work in research projects in the field of the sputtering and optics, and then followed to PhD.
By 2005 he ended the PhD in Physics engineer covering plasmas cold discharge spectroscopy and thin films. After PhD he went to space industry for 8 years working in space optics (free space optical communications, OGSE for GAIA and S3) and photonics (radiation hard optical fiber amplifiers) and eventually as project manager.
In 2013 he went back to academy (Faculty of Science – University of Lisbon; FCUL) to work on GRAVITY ESO project (IR- multitelescope interferometer). He continued to work in space industry, OMNIDEA, in the fields of satellites propulsion until 2020.
in 2020 he created a Startup, Synopsis Planet, that offer optical engineer services to the space sector. Also, currently as researcher (FCUL) he is: 1) PI of LIDAR instrument of HERA mission and participates in the science team; 2) he is PI of the participant entity FCUL, in H2020 NEO-MAPP (Advanced research in Near Earth Objects (NEOs) and new payload technologies for planetary defence).